VISAS AND RESIDENCE PERMITS IN PORTUGAL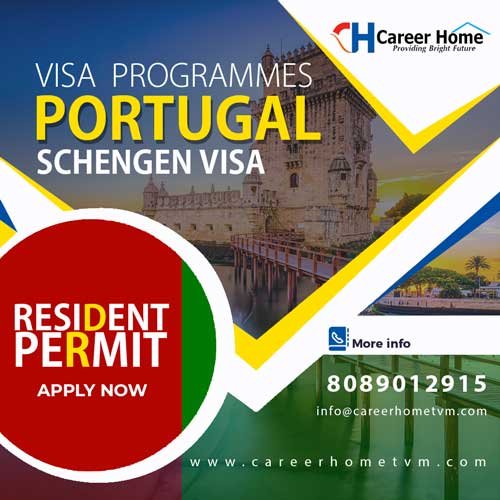 Holders of a residence permit in Portugal enjoy the same rights as the Portuguese, with some exceptions regarding the exercise of public and political functions, thus being entitled to:
Family reunification
Access quality education and vocational training;
Exercise a dependent or independent professional activity;
Benefit from a qualified and accessible health system;
Access the Law and the courts; and
The Portuguese nationality at the end of the five years.
Book your seat for flying to Portugal
VISAS AND RESIDENCE PERMITS
It is Always a hardship and a complete dilemma to choose the path. For Foreigners arriving in Portugal with a Tourist, student, or temporary visa, there is a possibility to request the Demonstration of interest for the acquisition of a Residence Permission for work. The process is not recommended. However, if you are already in the country and work for someone else or are an individual entrepreneur, it is possible to regularize Apply for demonstration of Interest sapa Portal for article 88-2or89-2and get your Residency Authorization to live and work in Portugal.
The period for the complete process takes about more or less 2year. Once you have a work permit, you must apply for a work visa at the Portugal embassy, which you will use to enter the country. You apply for a Portugal Residence Permit. once you have arrived in Portugal, you must apply for your Residence permit for work at the Portuguese immigration and borders service.
In theory, and without prejudice to the special conditions for granting visas, foreign citizens are entitled to obtain an entry visa in Portugal provided they are not prohibited from entering Portugal, they have means of subsistence, a valid travel document, and travel insurance.
However, in practice, there are many factors that depend on obtaining a visa or residence permit, such as having no criminal record, registration with the Tax Authority and Social Security, the opening of bank accounts, and others.
Consequently, after the preliminary analysis to frame the type of proceeding, it is necessary for a careful analysis of the details and documents by an experienced professional in order to determine the success of the proceeding. The efforts which you and we put together are all in pursuance of the benefits and advantages of this permanency of residence.
Portugal is internationally recognized not only as one of the best destinations to visit, but also to live, study, work and invest.